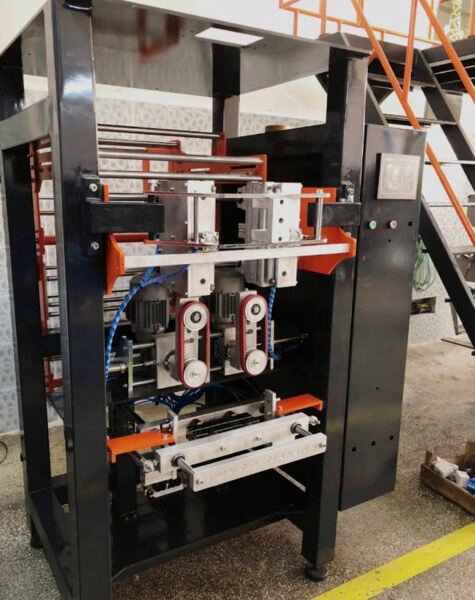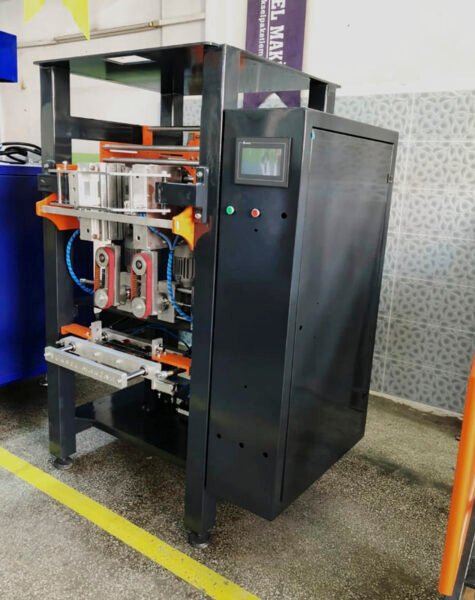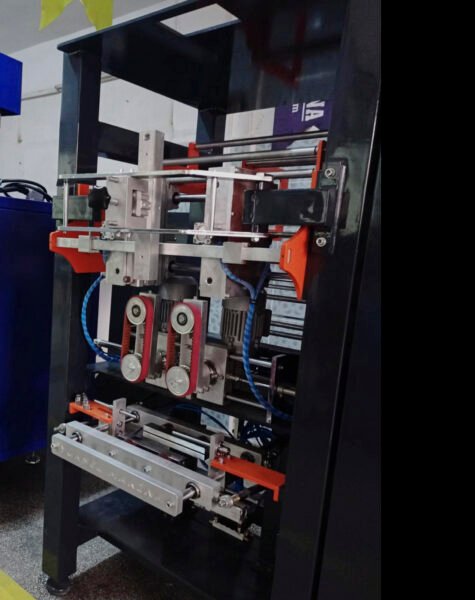 Quadro Packaging Machine From 10 gr. to 1000 gr. The machine, which is designed to pack granular and powdery products, is used with a volumetric filling system suitable for the type of product. YMS-M ZEUGMA is compatible with many packaging materials. Packing capacity varies between 25 packs/minute and 100 packs/minute (depending on weight) depending on the type of product, package foil type, package size and weight. It can work in harmony with all electronic weighing systems.
Vertical Packing and Filling Machine is controlled by a touch operator panel with an easy-to-understand menu. Hot press, bag size settings and speed settings can be controlled by plc.
Machine Features:
Compact Design
Stainless and aluminum materials in the inner and outer parts of the machine
Color Touch Screen Control
PLC control system
Low Maintenance Cost, Easy to use
Bag foil centering system(*)
Production of collars, pipes and screws according to the characteristics of the products
Automatic bag size and weight adjustment.
Working with or without photocell
Protective gas system.
Different Adhesion and Cut Types
Hot Stamping jaws.
Easy Format Change
Plexiglass cabinet
All safety tools, emergency stop.
Optional Features:
Additional external feeding elevator, front exit tape, hot and cold date printing coding apparatus, vertical edge sealing (4 edge stitched) for the fitted package, bellows apparatus are optionally attached to the machine.
Appropriate final control tests are carried out in European standards. Regular and economical spare parts, 24/7 fast service. Our machines are produced in accordance with the food regulations.
Applications:
Pulses, rice, lentils, candy, pasta, food seeds, popcorn, tea, chips, crackers, etc. used in the packaging of products.
Machines We Have Produced;
Get to Know Us
Vision
Mission
As one of the well-established companies in the machinery industry, Yuksel Packaging Machines Technology Industry Trade Limited Co.  with its 15 years of experience.
It has contributed to the national economy with its domestic and international sales in this sector.
In addition, with the packaging machine promotion activities carried out by the company, it has reached a certain market share in the foreign market and has become a company that exports to many different countries.
It is the leading brand in the sector by bringing our packaging machines, which we produce in international quality standards for different product groups, with the whole world market, and by providing maximum benefit to our stakeholders, with our innovative perspective and R&D activities that make a difference. to be.
To offer our machines to the service of our current and potential stakeholders by expanding our product range day by day, thanks to our expert and well-equipped personnel, experienced technical service team, R&D activities and our cutting-edge design approach.
p>
Sanayi Mahallesi 60210. Cd. Pk: 27110 Şehitkamil/Gaziantep

+90 542 460 91 91
+90 537 559 10 02

info@yukselpaketleme.com
You can request urgent support by clicking the buttons below…