Linear Vertical Packing Machine with 4 Scales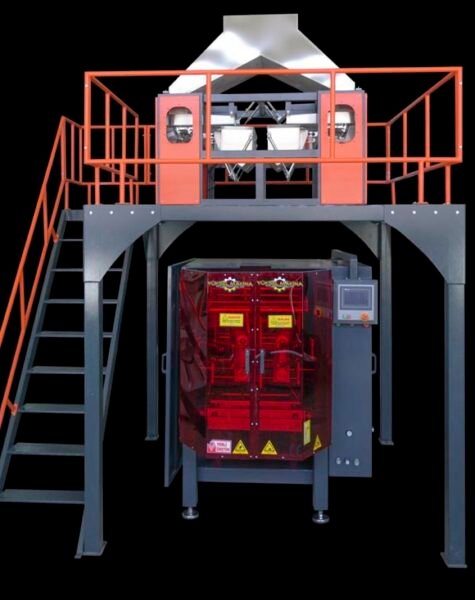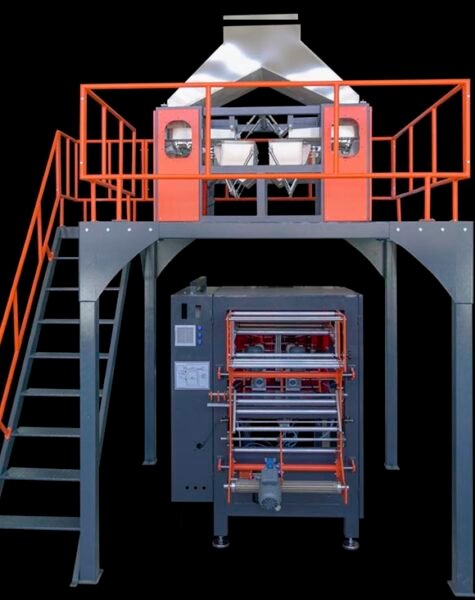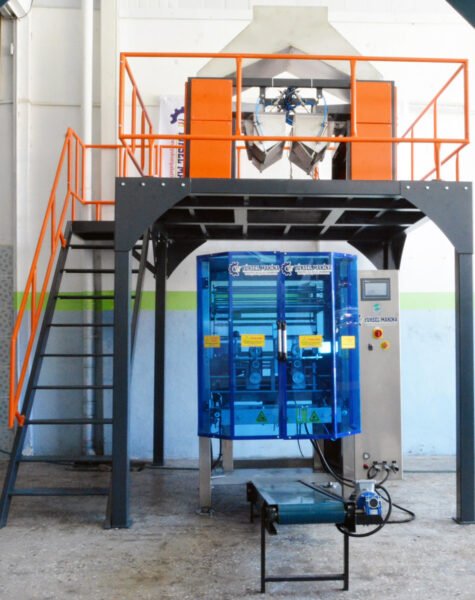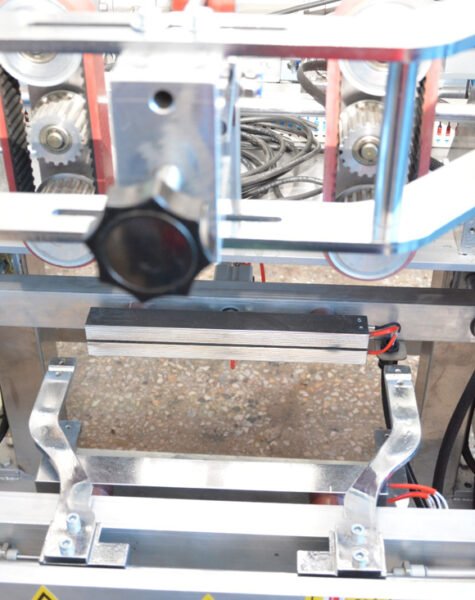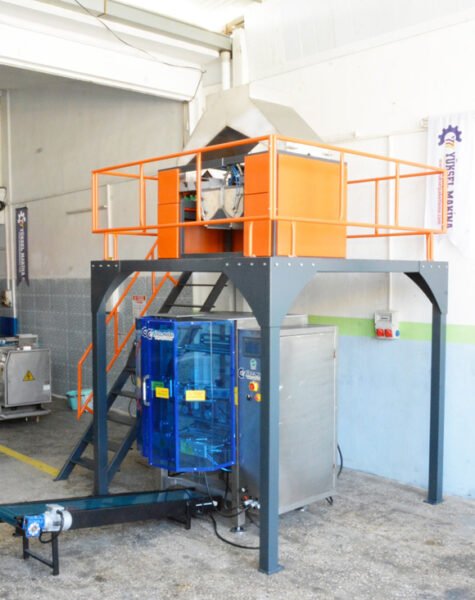 Yuksel Packaging Machines Technology Industry Trade Limited Co. produces fully automatic packaging machine with linear scales in this sector with its 15 years of experience. This machine is mostly used for pulses, tea and granulated sugar, nuts, bird feed and fish feed, powder detergent etc. It is used in the packaging of granular products. In addition, 4-pan scale groups with a linear working system do not work in a sequential manner.
As soon as the linear scale groups are started, all vibration troughs are started to be manually discharged to the pans. According to the determined weight amount, which pan reaches first, that pan is opened and the product inside is emptied into the packaging machine. In these periods, the scales start to work and the product unloaded into the packaging machine is adhered by the vertical jaw in A+A or A+B depending on the bonding form of the package coming from the collar section.
The lower jaw group cuts the package by sticking the upper part of the package after pulling the package length as much as the photocell point on the package. Bellows (seated) package system can be added optionally for high weight packages.
Product Code: YMS-L EVEREST
Production Capacity
5-25 packages depending on the product and weight
Package types
pillow, bellows,
Packed product
500-5000 gr. pulses, granulated sugar; 500-10000 gr. powder detergent and granular products
Filling system
Liner filling with 4 scales
Package types
OPP- CPP – and other laminated films
Dimensions of the machine
2200*2700*3450 mm (dimensions excluding elevator)
Installed Electric Power
8 kW
Average Electricity Consumption
5 kW
Air consumption of the machine
6-8 bars 500lt
Machine's feeding system
automatic elevator
Product transport conveyor
Conveyor belt conforming to food standards
Control system
PLC control and reporting
Heat control
automatic heat control unit
Technical Specifications:
Weighing is done with a 4-pan linear balance.
It is used for filling granular and powdery products.
Agriculture Ideal for sensitive and fast packaging of products such as pasta, candies, nuts, legumes, detergent granules.
The whole system is touch PLC controlled.
Machines We Have Produced;
Get to Know Us
Vision
Mission
As one of the well-established companies in the machinery industry, Yuksel Packaging Machines Technology Industry Trade Limited Co.  with its 15 years of experience.
It has contributed to the national economy with its domestic and international sales in this sector.
In addition, with the packaging machine promotion activities carried out by the company, it has reached a certain market share in the foreign market and has become a company that exports to many different countries.
It is the leading brand in the sector by bringing our packaging machines, which we produce in international quality standards for different product groups, with the whole world market, and by providing maximum benefit to our stakeholders, with our innovative perspective and R&D activities that make a difference. to be.
To offer our machines to the service of our current and potential stakeholders by expanding our product range day by day, thanks to our expert and well-equipped personnel, experienced technical service team, R&D activities and our cutting-edge design approach.
p>
Sanayi Mahallesi 60210. Cd. Pk: 27110 Şehitkamil/Gaziantep

+90 542 460 91 91
+90 537 559 10 02

info@yukselpaketleme.com
You can request urgent support by clicking the buttons below…